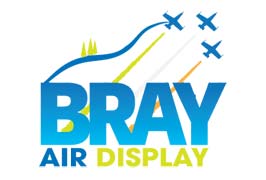 Date: Sunday, 19th of July 2015
Times: From 14.00 to 17.00
Venue: Bray Air Show
Address: Bray Seafront, Strand Road, Bray Co.Wicklow
Free event
From Bray Summerfest "Join us on Sunday, July 19th 2015 from 2pm for the annual Bray Air Show.
Over 88,000 people attended the Air show in 2014. This year we have brilliant line up.
The Display Director for the Bray Air Display, Sé Pardy of Simtech Aviation, said: "As this will be the 10th Annual Bray Air Display, we've got an extra special programme lined up for families. From vintage aircraft to supersonic jets, and from smoke-filled displays to precision formation flying, we're showing the public the very best of what Irish and international aviation has to offer."
Part of the Bray Summerfest programme (#bsf15), and supported by the Irish Aviation Authority, the Bray Air Display, starts at the earlier time of 2.00pm on Sunday, 19th July, and is expected to attract over 80,000 visitors to the East Coast that day.
One of the major highlights will be the Swiss Air Force Aerobatic team, Patrouille Suisse, as they make their Irish debut. The six aircraft, flying in the Swiss national colours, are also taking part in an official rehearsal for Bray, on Friday, July 17th.
Other crowd favourites this year include the Black Knights Defence Forces Parachute Team, the Boeing Stearman, the MIG-15, the Strikemaster, the high-speed SBach and the Hunter.
Jets from Aer Lingus, Ryanair and CityJet will also be taking to the skies above Bray that day and spectators are strongly advised to use Dublin Bus, DART and other public transport services, as traffic restrictions will be in place."
http://www.braysummerfest.com/
http://www.brayairdisplay.com/