My attention was drawn this morning to a fire that occurred on an Oil Rig in the Gulf of mexico last week. Oddly it isn't making huge headlines this side of the atlantic, but clearly it appears to be their Piper Alpha, all th emore tragic in the fact that the Rig involved is one of the most modern in use, with all the best safety features.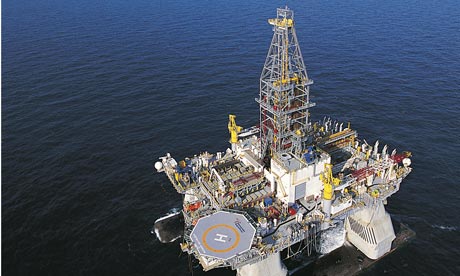 Before the fire.
It was a DP rig, or floating, instead of mounted on Legs on the seabed. It holds the record for drilling the Deepest oil well in history.
The rig represents the cutting edge of drilling technology. It is a floating rig, capable of working in up to 10,000 ft water depth. The rig is
not moored; It does not use anchors because it would be too costly and too heavy to suspend this mooring load from the floating
structure. Rather, a triply-redundant computer system uses satellite positioning to control powerful thrusters that keep the rig on station
within a few feet of its intended location, at all times. This is called Dynamic Positioning.
On april 20 however, it suffered a blowout, which occurred so quickly that there was no time to operate any of the failsafes. Flames were visible up to 35 miles away, rising 300 feet or so. Survivors say they had as little as 5 minutes to evacuate before the flames got out of control. After burning for more than a day, while support vessels tried in vain to douse the flames, the rig Capsized and sank on April 22nd.
The problem is the Wellhead is still open, and it is leaking very crude oil into the sea, about 1000 barrells a day. BP are, with Undersea ROVs attempting to close the well, and in time, another well will be drilled to alleviate pressure on the current wellhead, which is still attached to the sunken rig.
http://cimss.ssec.wisc.edu/goes/blog/archives/5240
http://www.ireport.com/docs/DOC-435316?hpt=C2