The Minister for Defence invites tenders from parties who are interested in purchasing a boat transport vessel which the Naval Service now wish to sell.

Up to 2008 the vessel had been used to ferry passengers between the Naval Base at Haulbowline (Co. Cork) and Cobh.

The vessel was built in 1971 and had been licensed to carry up to 50 passengers. In 2008 the Naval Service engaged a firm of naval architects to survey the vessel in order to ascertain what work was necessary to make it compliant with Department of Transport Marine Notice No. 16 of 2006.

The architect's findings concluded that the vessel could not be economically modified to comply with the revised regulations. It was found that the boat would require significant work to bring it in line with the regulations which in turn would reduce the passenger capacity of the vessel. However, the hull and general fittings, including the engine, are sound albeit without the capacity to carry passengers.

The following are the dimensions of the vessel -
Length: 14.2 m
Beam: 3.5m
Displacement: 14.79 tonnes.

The vessel will be sold "as seen" and the Minister for Defence cannot accept any responsibility as to its quality or condition. It is important that prospective tenderers note that the vessel can no longer be used as a passenger boat and is no longer licensed for such purposes.
http://www.etenders.gov.ie/search/sh...x?ID=JUN153889
Which one is this? I noticed David F is not doing the job at the moment, and in its absence transport is being done by the former Irish Steel transport "Ingot", now known as "spirit of the Isles" or something similar.
David F is a much older vessel though, and far larger than that listed above.
I'm thinking it is the famed "small officers boat" Fainleog.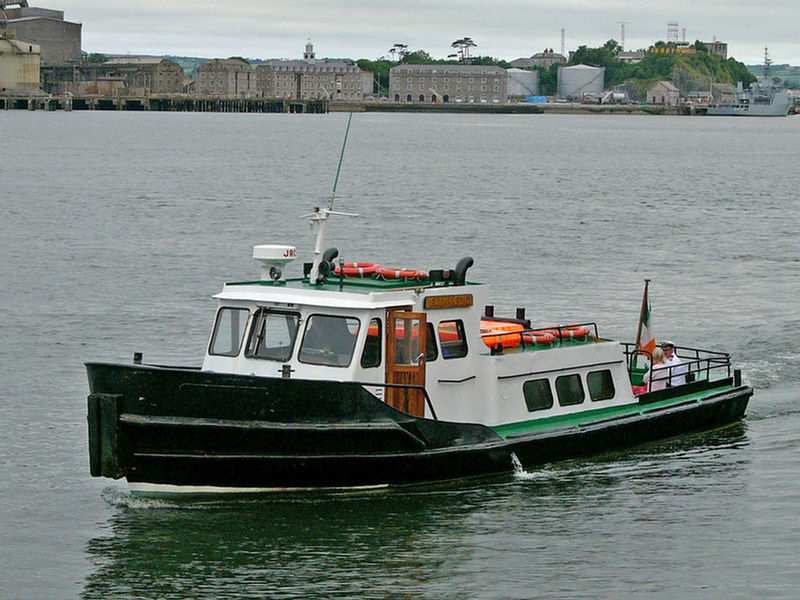 She would make a nice runabout/project for conversion to houseboat.
However, given the reason she was considered unsuitable to continue in her past role, a prospective buyer should have a look at what was "wrong".
http://www.transport.ie/viewitem.asp...g=ENG&loc=2012