It is one of the army's most dangerous jobs – finding and defusing IEDs, the homemade bombs that have been used to deadly effect by the Taliban in Afghanistan.
>>>
"Guardsman James Stephenson is just 20 years old, but when the soldiers of the 1st Battalion of the Coldstream Guards leave their base in the Babaji area of Helmand, he leads the patrol. Stephenson's nickname is "Steveo", but on duty in Afghanistan, everyone calls him "Vallon Man". The Vallon is the metal detector used to sweep for bombs – and being a Vallon Man is one of the army's most dangerous jobs.
The last five years have seen a sharp increase in the use of IEDs (improvised explosive devices) in Afghanistan. According to figures leaked last month, the number of IEDs increased from 308 in 2004 to 7,155 last year; a total of 16,000 were planted in those five years, killing at least 7,000 Afghan civilians. These devices have also caused the vast majority of all British and American deaths during the conflict, and are seriously hampering Nato's operations in the country. Of the IEDs recorded in last month's figures, 8,582 were found and cleared, but 7,553 exploded. The threat is so high that every patrol must be led by a soldier sweeping with a metal detector. However, the insurgents have started cutting down on the metal they use in the devices, making them harder to detect and more likely to have their desired effect.
In February, Stephenson's friend Lance Corporal Darren Hicks, from the same battalion, stepped on an IED and was killed while patrolling as a Vallon Man. Five of the battalion's soldiers have died during this tour and a further six have lost their legs – all victims of IEDs. Stephenson admits to feeling terrified each time he leaves the gates of the patrol base."
Report by Stuart Webb of the Guardian who talks to and photographs the men on the frontline.
Read more here:
www - life and death with IED's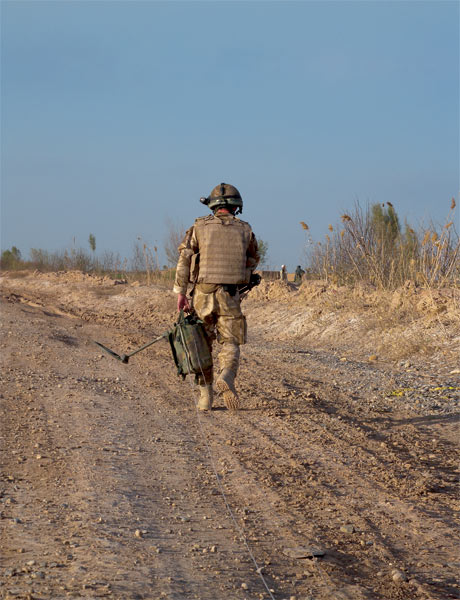 Staff Sergeant Gareth 'Woody' Wood does the lonely walk - he alone has to approach the IED, leaving his support crew a safe distance behind.
<<<
a very eye opening article on the effect IED's are having in modern warfare.
no amount of money could persuade me to be the Vallon Man.
God bless them all.
Edit:
please do not turn this into a Brit bashing thread like the others. i only posted it so you could get a feel for what is happening out there on a daily basis on a scale i hardly even realised.