Source: The Times, Saturday, Aug 26, 1916; pg. 3; Issue 41256; col A.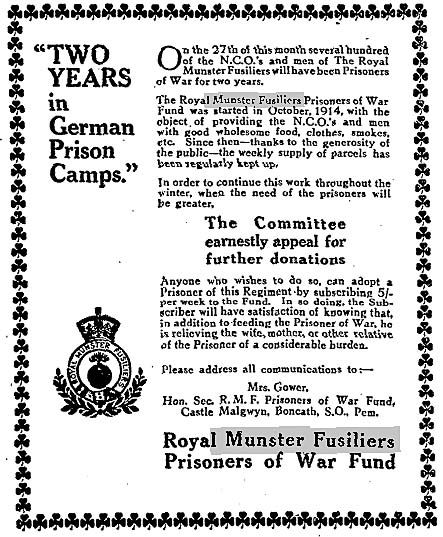 Adverts appeared in the Times for the RMF in 1916. Mrs Catherine Gower of Castle Malgwyn, Wales was Hon. Sec. of the Munsters fund.
Mrs Gower's son Capt. Erasmus William Gower, 2nd Bn. Munster Fusiliers was taken POW after the Etreux action.
The above advert is one of several that appeared at intervals. POWs' relied on family, friends and these funds for supply of extra food parcels and warm clothing for the winter months.
Castle Malgwyn was used for rest and recuperation of military personnel in both World Wars. The castle is now a hotel.
Corkman