Hi guys,
First post here! I'm looking for any information any one can offer on a particular type of Irish army officers dress uniform of the 1930's era, if you take a look at the below image its uniform number one.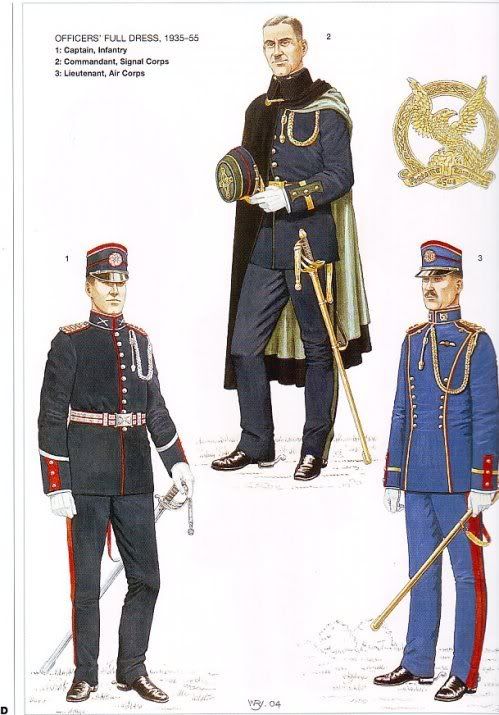 Why I ask is because I work for Carlows Military Museum and we have recently been given one of these uniform! Dated November 1937 it is in immaculate condition (almost as if it were made yesterday, no exageration!!). We have the cap, jacket, trousers, gloves, scarf and a sam browne with cross strap which I believe would not have been worn with this type of uniform. Unfortunately we dont have the dress belt and sword which I'd imagine held more value to the family than the uniform and was either kept, or passed on to another party or family member. The uniform belonged to a Captain Micheal Lennon and he was obviously in the Military Police as those are the insignia's on the collar. Michael was the govenor of Arbour Hill prison in the 30's as far as I know.
Can anyone offer any further info on the uniform, when it may have been worn etc so that we may add it to the information board for the display. Are these type of uniforms still worn? I had never seen one before this and didnt think that there was such a style used by the army. The cap in particular is very similar to caps used by the French.
Thanks a mill'