The first of 250 unknown British and Australian soldiers whose bodies were dumped by the Germans in mass graves in northern France during World War I was reburied on Saturday with full military honours.
The soldiers were killed in July 1916 during the Battle of Fromelles, generally considered a significant defeat for the Allies.
The unidentified bodies were discovered in mass gravesites in 2008 and experts have been working to find out who they are, but the identity of the first to be reburied remained unknown.
The remains were re-interred with British and Australian dignitaries in attendance at the military cemetery of Fromelles, about 16 km (10 miles) west of Lille.
Experts are continuing work on identifying the bodies, all of which will be formally reburied over the course of the year.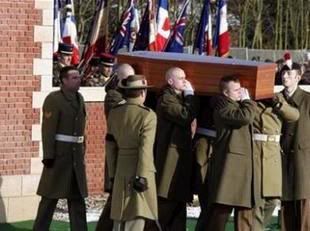 A bearer party carries the coffin of an Australian soldier at Pheasant Wood military