Francis Ledwidge
Born August 19, 1887 Died July 31, 1917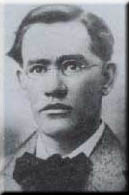 (from:
http://guilds.outpost10f.com/~poetry.../ledwidge.html
)
The Irish poet Francis Ledwidge was born 19 August 1887, at a time when Britain governed Ireland. He was the son of Patrick Ledwidge and Anne Lynch, labourers, and was their eighth child. They lived in a small cottage in Janeville, Slane, and after Patrick suddenly died, Francis had to help his mother labour in the fields of local farmers.
When he became older he apprenticed in grocery shops in Drogheda and then Dublin. He left Dublin soon after he arrived, walking 30 miles back to his home in Slane, and started writing his "first poem" the very night he left. He then worked as a road builder and miner.
Francis Ledwidge actually first wrote verse on a school slate, and after that he wrote anywhere and everywhere that he could. A piece of stone he wrote on with the charred end of a stick is still in existencein a museum dedicated to him at his cottage home. Eventually, a fellowworker sent one of his poems to a local paper, and it was accepted.
After one of his poems was published in The Drogheda Independence, he contributed regularly to the paper. His contributions were accepted and published in several local papers, and he received local praise. Encouraged by this, he sent a notebook of his poems to the famous Lord Dunsany, who liked them and introduced Francis Ledwidge into Dublin's literary world, becoming his mentor and close friend.
Ledwidge fell in love with the daughter of a landowner who owned half the Hill of Slane, Ellie Vaughey, who he took walks with. As he was not accepted by her family, she had to refuse his affections. Some time later, news reached Ledwidge that Ellie had died, and he began writing elegies, which he dedicated to her.
Francis Ledwidge was also an Irish Nationalist and a soldier for the British Army. He and his brother were two of the founders of the SlaneCorps of Irish Volunteers. When WWI was declared, home rule for Ireland fell by the wayside. Even though Ledwidge was a Nationalist, he voluteered for the British Army, enlisting at Richmond barracks in Dublin, saying,
"Some of the people who know me least imagine that I joined the army because I knew men were struggling for higher ideals and great emprises, and I could not sit idle to watch them make for me a more beautiful world. They are mistaken. I joined the British Army because she stood between Ireland and an enemy common to our civilization and I would not have her say that she defended us while we did nothing at home but pass resolutions."
Ledwidge wrote his poem, "The Heights of Crocknaharna" on his voyage from Ireland to the Dardanelles on board the S.S. Novian. Only 76 of 250 men in his company made it through a tragic operation at Suvla Bay,Gallipoli, Turkey, one of the bloodiest defeats of WWI.
While in the war, Ledwidge's first book, Songs of the Fields, was published. After collapsing from exhaustion and back pain, he was sent to a number of hospitals, and eventually a doctor found a copy of his book and had him transferred to England. While in the hospital in England, Ledwidge learned of the insurrection in Dublin, and the execution of the rebellion's leaders--including poet Thomas McDonagh and some of Ledwidge's other friends--which occurred in the same barracks where he had been trained. Francis Ledwidge wore the same uniform of the executioners. Lamenting, he wrote his poem, "Thomas McDonagh."
On 31 July 1917, while Ledwidge and his comrades were repairing roads and building new tracks for supplies at Le Carretour des Roses, a bomb shell exploded. He was killed instantly. He was buried 100 yards awayin Artillery Wood Cemetery. In the place where he died there is a monument of yellow brick dedicated to him, and on it are the first two lines of his poem "Thomas McDonagh," and his poem "Soliloquy" in English and Dutch translation. This site is now part of the "Peace Route," a 45 kilometer bike tour that is mainly dedicated to WWI and its memorials.
Three months after Francis Ledwidge's death, a second book of his poems was published, in which most of the poems were autobiographical. Lord Dunsany continued to collect his fallen apprentice and friend's poems, and 33 more were published in a new book, Last Songs. Most of the verses dealt with the beauty of his homeland in Ireland. A year after the third book, Francis Ledwidge's Complete Poems were published. However, his complete works will never be known. Many were lost in retreat in Serbia, and those that were saved were rainsoaked and ruined.
Ledwidge's boyhood home is in the Boyne Valley, in Slane, north of Dublin. It is now the "Ledwidge Cottage Museum," and its four small rooms are furnished as they would have been when he lived there. In recent years, Peace Concerts Passendale commemorated F.E. Ledwidge with a CD, "Songs of Peace," named after his second volume of poems, and remembering them in song, in an effort to promote tolerance and peace.
---
CWGC Entry
Name: LEDWIDGE, FRANCIS EDWARD
Initials: F E
Nationality: United Kingdom
Rank: Lance Corporal
Regiment: Royal Inniskilling Fusiliers
Unit Text: 1st Bn.
Age: 29
Date of Death: 31/07/1917
Service No: 16138
Additional information: Son of Patrick and Anne Ledwidge, of Slane, Co. Meath. A noted Poet, the majority of his poetry was about Ireland and the fairies.
Casualty Type: Commonwealth War Dead
Grave/Memorial Reference: II. B. 5.
Cemetery: ARTILLERY WOOD CEMETERY